CAEHR
Cardiovascular diseases (CVD) are still the leading cause of death in Germany. The strict separation between inpatient and outpatient care in Germany has been one of the major obstacles for the availability of patients' health information for strategic therapy planning and emergency care.
In CAEHR we aim to extend data integration and availability to the full multi-institutional and multi-professional patient journey. This is realized in close collaboration with patients, health professionals, researchers, IT companies and health care insurance companies.
The consortium combines strong intersectoral, long lasting regional partnerships in patient care in three complementary use cases. Theses use cases are each implemented in one of the participating regional centers (Würzburg, Göttingen/Hannover & Berlin) in close collaboration with the roll-out partners of one of the remaining centers, see Figure.
In close cooperation with Vivantes, Charité will lead the use case C - Outpatient Care.
Details will follow.
Read more Charité press release
Read more Federal Ministry of Education and Research press release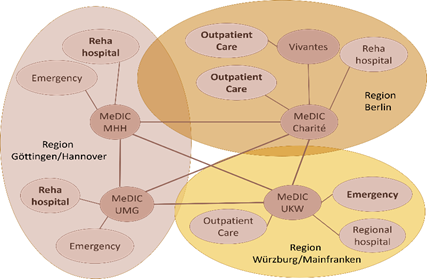 Figure: Consortium/regions and use cases